Lost World of Tambun – tambun,tambun hotel,world of tambun,tambun inn hotel,list of hotels,sunway lost world tambun,tambun lost world hotel,tambun inn,tambun water world,sunway tambun,gua tempurung,tambun water park,sunway lagoon tambun,tambun resort,regalodge hotel,tambun ipoh,bukit tambun,impiana casuarina hotel,syuen hotel,hotel sunway,bukit merah laketown resort chalet kenangan,fair park hotel,holiday,hotel list,hotel map,hotel review,sunway lagoon,sunway city,sunway,lost world of jurassic park,tambun waterpark,travel guide,list of hotel,map of city,places to visit,tambun waterpark,list hotel,map of city,map of town,of hotels,google map of,lost tv show,travel,weather,resorts,resort,budget hotel,accomodation,motel,budget accommodation,best hotel,hotel,restaurants,hotel panorama,travel guide, tourist,tourism,visit,resort directory,resort offers,locationmap,
Lost World of Tambun – Malaysia
[media id=50 width=500 height=400]
The new RM60 million water theme park "Lost World of Tambun" is   located in the historic town of Ipoh in the middle of the North-South corridor in Perak.
Ideally located between Penang and Kuala Lumpur. The park will provide a much-anticipated family leisure attraction for anyone in the area.It's expected to attract 450,000 visitors annually.
The theme park is landscaped with vines, creepers and lush tropical plants to give the illusion of a Lost World.  The park is the sister theme park of Sunway Lagoon in Petaling Jaya.  It is opened since Nov 2004.
theme park is two hours drive north from Kuala Lumpur and one-hour and a half drive from Penang. It opens from 12:00 noon until 7 p.m. on weekdays.
On weekends, school and public holidays, the park opens at 10:00 a.m. It closes on Tuesdays except if the day falls on Malaysian school and public holidays. The entry fees are RM21 per adult and RM16 per child.
I just love the place where they build The Lost World of Tambun. Surrounded by nature with some huge limestone hill as background.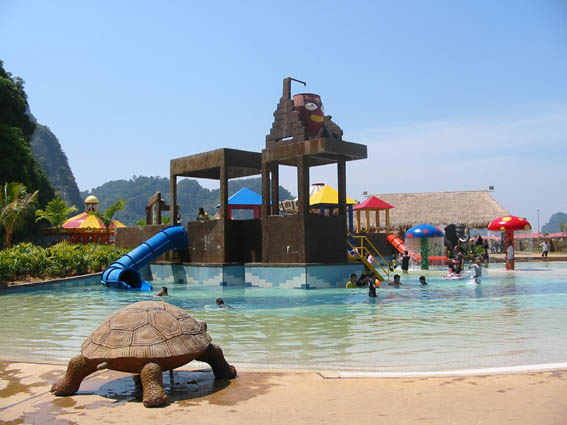 You can start the adventure at Adventure River and get transported on a long river ride, with giant waves providing the thrills.
It's running 600m around the theme park, the river passes through ruins with special effects like smoke, light, the sounds of monkeys, elephants and insects, and water sprays.  The brave-hearted can check out the Cliff Racer twin speed coaster slides using tubes.
The Explora Bay kids zone has smaller slides and fountains.A favourite with both kids and adults in this zone is the tipping bucket, which overturns when it is filled to the brim, splashing water onto everyone beneath.
There is also the Jungle Wave Pool with seven wave patterns that can rise up to one metre high.Beyond the wave pool, the adventure continues with the Tube Raiders which comprises four different tube slides measuring between 113m and 115m that end at the edge of a pool.
The most interesting and thrilling slide is the one wherein the adventurer is engulfed in complete darkness when passing through it.After a long day of fun and adventure, visitors can relax or rejuvenate themselves by soaking in a bathing pool which is fed with 100% natural spring water from the famous Tambun hot springs nearby.
Lost World of Tambun – tambun,tambun hotel,world of tambun,tambun inn hotel,list of hotels,sunway lost world tambun,tambun lost world hotel,tambun inn,tambun water world,sunway tambun,gua tempurung,tambun water park,sunway lagoon tambun,tambun resort,regalodge hotel,tambun ipoh,bukit tambun,impiana casuarina hotel,syuen hotel,hotel sunway,bukit merah laketown resort chalet kenangan,fair park hotel,holiday,hotel list,hotel map,hotel review,sunway lagoon,sunway city,sunway,lost world of jurassic park,tambun waterpark,travel guide,list of hotel,map of city,places to visit,tambun waterpark,list hotel,map of city,map of town,of hotels,google map of,lost tv show,travel,weather,resorts,resort,budget hotel,accomodation,motel,budget accommodation,best hotel,hotel,restaurants,hotel panorama,travel guide,,tourist,tourism,visit,resort directory,resort offers,location map